'Hack Thailand 2033: 48 hours to Transform Thailand Towards the Post-Election Future' is a process showcasing solutions by the people to various problems in all sorts of Thai social aspects. The event is held by Thai PBS in collaboration with its partnering allies e.g. National Innovation Agency (NIA), Thai Startup Trade Association (Thai Startup), National Institute of Development Administration of Thailand (NIDA), Friedrich Naumann Foundation for Freedom (FNF), Thai Health Promotion Foundation (Thai Health), Thailand Science Research and Innovation (TSRI), National Health Commission Office (NHCO), Chulalongkorn University Social Research Institute (CUSRI), Youth In Charge Leadership Academy, United Nations Development Programme (UNDP), Community Organizations Development Institute (CODI) and Thailand Future Foundation in order to obtain the 'Post-election Future Scenario' under the objective to eventually truly solve national challenges while also act as the transition to the new government.

Nattaya Waeweerakupt - Director of the Social Agenda and Public Policies Communication Center at Thai PBS shares her account of the Future Scenarios from input obtained from the 8 Social Listening Forums held in many regions around the country. The Forums have yielded input of 9 missions, 6 agendas, and 12 topics which led to today's Policy Hackathon.
Thailand's first general election started in 1933 and is going to be the election on this 14 May 2023 is going to be the 27th general election. The governments have their 4-year term, but the people live much longer, that is why we do this 'Post Election Scenario' because our life and future are far beyond merely the 4 seconds of vote casting and much further than just the 4-year term of the cabinet. We will do a '10-year Post Election' Plan to map out the future we - The People- wanted to create and to have together.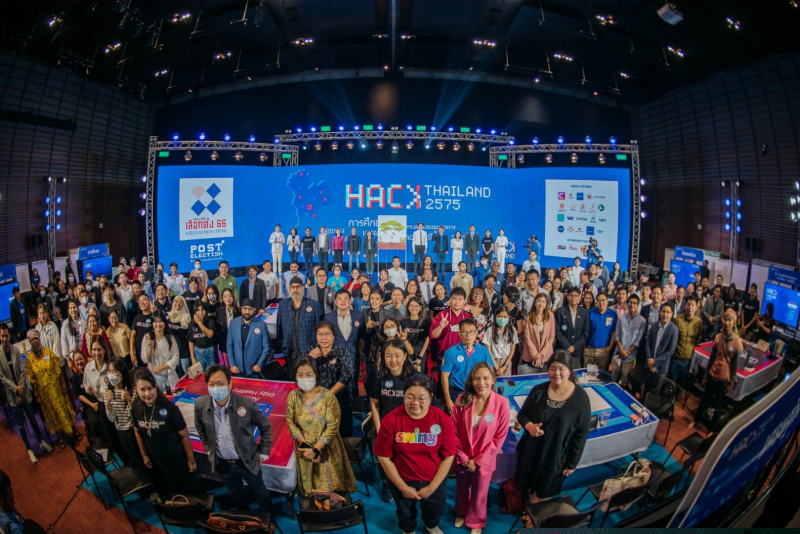 'Hack Thailand 2033: 48 hours to Transform Thailand Towards the Post-Election Future' is part of the Project 'Post-Election: Envision the Post-Election Future' that Thai PBS collaborates with its partner allies to encourage people's participation and social engagement in the policy-making process.
Participants would have the opportunity to state their opinion, needs, and vision regarding Thai society in 10 topics before all the ideas and opinions would be presented to the political parties candidates participating in the upcoming election on 14 MAY 2023"
The event is broadcasted live via Facebook@ThaiPBS and 'The Active' Facebook page.
The program 'Hack Thailand 2033: 48 hours to Change the Face of Thailand is to be broadcasted on the 29 and 30 APRIL 2023 at 22.05 hrs. on Thai PBS Channel 3
Live broadcasted online via www.thaipbs.or.th/live On-demand viewing is also available at www.thaipbs.or.th/HackThailand2575